Used Toyota Hiace Campervans for sale Sydney
Used Toyota Hiace Campervans for sale Sydney
Travelwheels campervan hire has a number of Ex-hire used Toyota Hiace campervans for sale.  They all come with 12 month unlimited kms warranty included.  The vehicles are deep cleaned, all stickers removed and serviced before going on sale. Call Shaun on 0421101021 to arrange a test drive or email us at sales@travelwheels.com.au.
Every year we sell off a number of ex-hire campervans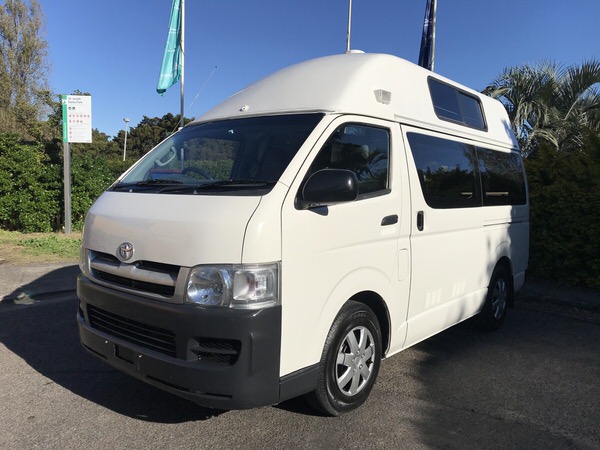 Every year at travelwheels campervan hire will sell off our older models.  We do this to refresh our campervan rental fleet. This means there is a great opportunity for you to buy our great used Toyota Hiace campervans for sale. These campervans have been professionally deep cleaned.  We then remove all the stickers and make them look new. These popular used Toyota Campervans are ex-hire are well well maintained.  They are ready to go on an adventure around Australia.
3 Person Toyota Campervan
These 3 Person Toyota Hiace Campervans are the perfect vehicle for exploring Australia.  If you are thinking for example about planning a road trip down under across Australia, then consider a Toyota Hiace! Our Used Toyota Hitop Campervans for sale seats and sleep three people.  There is a big double bed in the back of the Toyota campervan.  In the roof space, there is a fun single bed for the kids. This way you can save a lot of money on accommodation and also sleep right by the beach!
All ex-hire used campervans for sale are serviced regularly, and we hold records on file. Therefore you can be sure that it is in a good condition.  It will fully detailed and serviced, and ready to travel today across Australia.
These Toyota Campervans have lots of storage room inside the vehicle.  The kitchen, lounge and other areas all have hidden storage space. When you buy one of our used Toyota Hiace Campervans for sale it comes fully loaded.  Travelwheels campervans will supply all the cooking and living equipment! This means all you have to do is turn up, throw your bags in the back and go!
Main Features:
All travelwheels ex-hire used Toyota Hiace Campervans for sale come with everything you need to have a great holiday! Check out this list of the main features inside the Toyota Hiace Campervan for sale from travelwheels:
Sleeps three people
Comfortable double bed (1.85m x 1.55m)
Fun single roof bed (1.60m x 1.38m)
Folding outdoor table from the campervan
2x burner gas stove and 4kg gas bottle
All cooking, sleeping and living equipment included in the price
Dual Battery System for the fridge and internal lights
Manual Gearbox with 2.4L Economical Engine
Air Conditioning in the front cab
Power Steering (easy to drive)
Why buy Toyota Hiace Campervans from us?
We have been hiring campervans across Australia for the last fifteen years. For one thing, our range of ex-rental Toyota Hiace campervans come fully serviced, deep cleaned and ready for your test drive.  To begin with, we know that this is a serious purchase and you will need to do your research to feel comfortable buying one of our campervans.
The team at Travelwheels know what works, and what to look out for and how to maintain these campervans in optimal health.  Therefore we can pass on this knowledge to you and make you feel comfortable purchasing one of our used Toyota Hiace 3 Person campervans.  You are for instance more than welcome to pop down to our yard and test drive as many of our campers as you want.  This way you can get a real feel as to what campervan suits you the best.  Come on down, jump in the back and make the beds or use the cooker!  We want you to be happy and to summarise you will also get the following benefits included in the price when you buy from us:
One year Australia warranty on engine and transmission.
12 months worth of roadside assistance included
Guaranteed buy back up to 50%
Twenty years of experience in buying and renting Toyota Campervans in Sydney
Try before you buy!  Rent the camper for a week and then buy to make sure you are happy
Roadworthy Certificate (Pink Slip)
12 Months Warranty on Engine & Gearbox,
24 /7 Roadside Assistance
Help with purchasing Third Party Insurance
We speak Deutsch!
Similar used campervans to consider
These used ex-hire Toyota campervans for sale are a very popular choice with our customers.  For one thing, they are always sought after vehicle for those people looking for good value for money campervan.  If for instance, this one has sold out, then don't worry.  We get new stock in every week, so definitely worth giving Shaun a call on 0421101021 to get an update on new vehicles arriving soon.  Here are a couple of more options to consider:
Visit our depot for test drives
Sooner or later it will be time for you to come on down to our depot in Sydney.  To begin with, once you arrive you are welcome to ask as many questions as you want.  Secondly jump in a few different styles of campervans and try them all out.  Here is the address of our used Toyota Hiace 3 Person Campervan centre in Sydney, 11-15 Clevedon Street, Botany, 2019, Sydney.
Contact the team via messenger or email
You can send the team your questions by emailing us at sales@travelwheels.com.au.  Alternatively, the easiest way is to fill in the contact us form below.  The team will get back to you asap.  We look forwards to answering your questions and meeting you at our depot.