Used Campervan for Sale in Sydney – Toyota Automatic 2 Person Camper – REF: CZ09XH
Used campervan for sale in Sydney – Toyota Automatic 2 Person Camper
Travelwheels campervan sales have recently received some more great value for money ex-hire Toyota campers.  This used campervan for sale in Sydney is in excellent condition.  Firstly it comes fully serviced, and all the stickers have been removed, and ready for sale.  These Toyota small campervans are in great demand with our customers who need a compact camper with a double bed, chill-out lounge and a compact kitchen. Call Shaun on 0421101021 for more info, ask a question or request a free test drive.
Practical easy to clean kitchen
As can be seen from the photo above the kitchen is well organised inside this Toyota used campervan for sale in Sydney.  It has been designed to be practical, easy to clean and simple to use!  Firstly, it has everything you need to cook nice meals with everything easily to hand. We get many customers to comment on how good it is to have the 35L fridge to keep food (and beers ) cold! Many customers say it's an easy space to keep clean, and they enjoy using the alfresco kitchen experience in the great outdoors.
Easy to use, easy to clean!
The simplicity of the design makes cooking a joy in this Toyota automatic campervan.   It has been designed with clean lines and easy to clean laminated surfaces which is a useful feature.  The team has included a full-sized 35L fridge which is powered by the second auxiliary battery. Here is a quick recap of the main features of the kitchen.
35L fridge made especially for campervan/caravan usage.
Stainless steel easy to clean sink.
10L water tank which is easy to refill.
Pull out two-burner gas cooker connected to 2kg easy to refill gas safety bottle.
Cooker and gas bottle can be removed to have a meal on the beach!
Storage box to keep all your cutlery tidy and not rolling around whilst driving.
Wooden chopping board fixed to the worktop.  Therefore easy to keep clean and replace.
Nice full-width laminated worktop to prepare food for cooking.
Note – we also sell a larger 5 person automatic Toyota campervan as well.
With all this attention to the design of the kitchen makes this small used campervan for sale in Sydney the perfect choice for anybody a practical campervan.  We have all seen so many people buy big campervans that always seem to be parked up on their driving doing nothing all year.  This campervan is different!  It's a compact camper, but has everything you need to cook great meals without over complicating things!  As a result of a very practical design, you will use this campervan over many more weeks than a traditional big campervan.   Give Shaun call on 0421101021 to arrange a test drive today to see why we love these campervans!
Drives like a car, but is really a hotel on wheels!
During the day time, the bed inside this used campervan for sale in Sydney is able to convert into a comfy lounge.  The double bed quickly folds into two comfy benches and an adjustable table.  This makes the space more usable and more inviting.  When you are out travelling around during the day, you can easily park up and relax.  Open the tailgate, cook up some food and sit in comfort enjoying the views.
Easy to drive and looks more like a car than a campervan!
This Toyota used campervan for sale in Sydney is easier to manoeuvre and way more relaxed to drive than a big bulky campervan.  Many of the positive comments for these Toyota Campervans mention they drive like a car, but have all the benefits of a campervan! As it is an automatic and due to its compact size it feels like a car, and easy to drive to work or pop down to the shops.
An additional benefit here is with no graphics and a simple white colour makes freedom camping easier.  You stand out less and able to keep a lower profile.  Also, another positive many of our customers say is that the car does not take up too much room on the driveway.  Previously some people mention having a massive campervan parked outside the house is unsightly and blocks sunlight from coming in the house!  The neighbours will be less likely to get stressed as well as this look better than a monster-sized campervan parked on the driveway most of the year!
Nice sized double bed with windows all around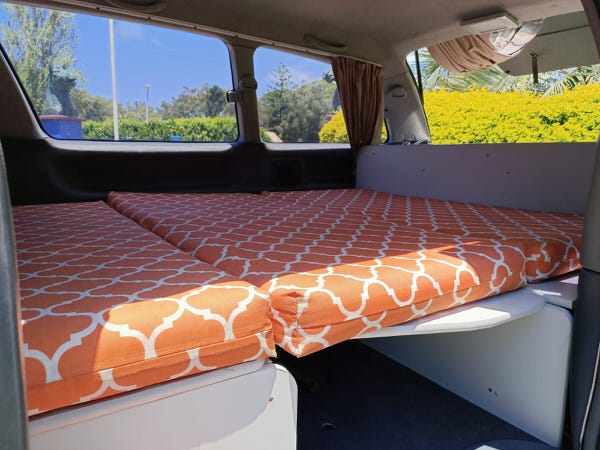 This used campervan for sale is a fantastic option for someone looking for a practical small campervan that is backed by Toyota reliability.  The practical design of this campervan allows the two benches and the table to be converted to make a double bed in the rear of the vehicle.   It literally only takes about a minute to convert the table/benches into a comfy bed!  If you don't believe us, then pop down to our depot here in Sydney and try it out for yourself!  Another important point to note is our used Toyota campervans have curtains on all the windows for privacy.
2 Person Campervan for Sale statistics
The bed inside this used campervan for sale in Sydney is comfortable and easy to unfold in less than one minute.  It's not just the bed that is good in this campervan!  When you consider you are buying into Toyota reliability with a high resell value, it is a very good choice for a used campervan.
If you looking for a good balance between comfort, price and usability, then you will love this used campervan for sale in Sydney! Here is a breakdown of the stats for this 2 person Toyota campervan.  Remember if you have further questions, please call us on 0421 101 021.  You can email our used campervans for sale here.
Double bed- sleeps 2 people (1.7m x 1.35 m)
35-litre fridge – dual battery operated
Practical and easy to use kitchen
Two-burner Gas cooker
Sink with a water tank
Two benches which convert to a double bed
Hidden storage under the bed to store valuables
Air conditioning
Power steering
Automatic transmission
We also sell larger Toyota Hiace Campervans as well
Similar used campervans to consider
Travelwheels campervan sales are experts in building our own in house campervans! Therefore, with years of experience renting and selling campervans, we know what works and what does not!  This is why without reservation recommend these great campervans.  However, if this Toyota automatic campervan has already been sold, then do not worry!  As a result of updating our hire fleet in 2021, we will have more shorty to sell.  Here is a short list of some more Toyota campervans we have in stock ready for sale today:
Welcome to test drive any camper!
You are more than welcome to pop down to our depot to test drive this Toyota used campervan for sale in Sydney.  Our depot is close to the domestic airport and the address is 11-15 Clevedon Street, Botany, 2019, Sydney.  The great thing about us is that we are not one of those companies where you are allowed to test, touch or try out any of the campervans!
We hate this approach, and want customers to be happy with browsing and trying out our rant of used campervans for sale!  Therefore with Travelwheels you can jump into a camper, make up the bed, and even have a go at cooking us some breakfast!  Travelwheels is the best place to test drive a great selection of campervans with warranty. Together with our years of experience,  we can help you find the right used Toyota campervan for your family.
Ask us a question?
Do you have a burning question about this particular Toyota used campervan for sale in Sydney?  You can email your questions to sales@travelwheels.com.au.   Our in house campervan sales team will be more than happy to help.  Alternatively, you can fill in our contact us form below.