Automatic Campervan for Sale in Sydney – Toyota Hiace 5 person model
Automatic Campervan for sale in Sydney – Toyota 5 Person camper
We have recently sourced this hard to find Toyota Hiace automatic campervan for sale at our Sydney used campervan depot. Without a doubt, they are always heavily in demand, and wildly popular here in Australia. For one thing, a super long-wheelbase Toyota automatic campervan is rare to find in this condition! Therefore, we suggest you call Shaun on 0421101021 for more details. At this moment in time, we have only a limited range of automatic campervans for sale.
Toyota Automatic Campervan – professionally deep cleaned and stickers removed
We receive these Toyota Hiace campervans from a rental company in the Sydney area.  Firstly, the BSC team at this point will go through a 100-point program to make sure they are ready for sale.  Secondly, the team, to begin with, does an industrial deep steam clean inside and out.  Thirdly, we then remove all the stickers and finally touch up the paintwork to make it look fresh.  Many of our happy customer reviews have stated they love these Automatic Toyota campervans!
You are welcome to contact us to ask any questions you might have.  A point often overlooked is our dedicated mechanics will test the vehicle over a few weeks.  This is all done prior to being offered for resale.  We, therefore, make sure they have a full service and test drive to iron out any issues beforehand.  This is why we recommend buying a used Toyota automatic campervan from BCS.  Remember we stock a range of campervans at our depot.  Our super popular small 2 person Toyota automatic campervans are the perfect compact campervan we sell.
Used Toyota Automatic campervan details:
When looking to buy a used automatic camper Toyota sets the standard in Australia.  Without a doubt, nobody comes close to the reliability of Toyota!  In comparison to the competition, there is no substitute for Toyota Hiace quality!  For one thing, Toyota reliability and comfort are unparalleled in the Australian market!  Here are the details of this automatic campervan for sale:
Make Toyota
The year 2007
AUTOMATIC GEARBOX/TRANSMISSION
12 Month Warranty on engine and transmission
12 Month Road Assistance Service
Buyback Guarantee up to 50%
Fully Serviced and Checked
Deep industrial clean inside and out
All stickers removed
With Pink slip
Comes with 1 Year Registration
A/C, Central Looking
Take a look inside our Automatic Toyota Campervan
Now is the time to take a look inside our 5 people Toyota automatic campervan.   We have lots of good customers reviews about this campervan and they all said it is super easy to drive due to the automatic transmission. These campervans are undoubtedly a winner with groups and families who want a spacious automatic campervan.
Great kitchen and comfy lounge
Here is another positive point to illustrate why these automatic campervans are so popular! They have been specially engineered to have a fantastic kitchen and living area! Consequently, they have been designed to have more head and legroom inside the camper.
2 x double beds and flexible sleeping arrangements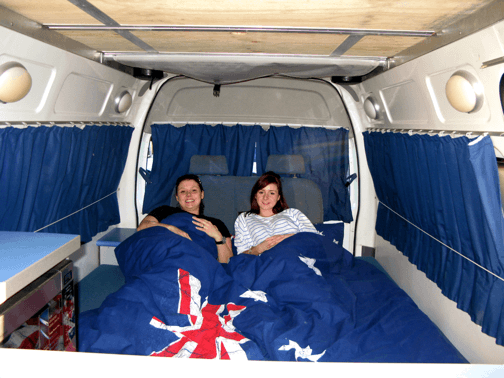 Here is another video below to demonstrate just how much time and effect has gone into the design of this camper. As a result of a larger lounge area, these vehicles have bigger beds. Up to this present day, we get many positive customer reviews said they enjoyed the extras space in the beds!
The second double bed inside this Toyota Campervan for sale
Let's talk about the fantastic adventure that is the top bed in this Toyota automatic campervan for sale!  The top bed is big enough for two adults, so it makes a great way for two adult couples to travel together.  We like to call the top double bed in this Toyota automatic campervan for sale the "penthouse suite".
Looking for a smaller Toyota Automatic Campervan?
Note: are you are looking for a small automatic campervan for sale?  If yes, then this is the time to check out our 2 person automatic campervans.  This is what they look like on the inside!  Firstly they drive like a car, but sleep like a campervan!  Another key point to note is they come with a double bed, mini kitchen with fridge and cooker included.  Give Shaun a call on 0421101021 for more information.
View our range of Toyota Campervans for sale in Sydney
These Toyota automatic campervans are a very popular choice with our Australian customers looking for a good value for money campervan.  Nothing comes close to these Automatic Toyota Campervans.  Why not come on down to our depot in Sydney to test drive a few campervans.  As this is our most popular family-style campervan, they often sell out super fast!  The best thing to do is if you are interested is to call Shaun on 0421101021 asap!
Buying an automatic camper contact us
Why not give us a call on 0421101021 to arrange a chat or to go for a test drive?  You will love this Toyota automatic campervan for sale!  It has everything you need to explore Australia. You are welcome to send us an email at sales@travelwheels.com.au. Our staff will be more than willing to answer any questions you might have.  By the way, you can visit our depot in Botany to view and test drive any of our automatic campervans for sale.  We are located at 11-15 Clevedon Street, Botany, Sydney, New South Wales, 2019.