Toyota Hiace Campervan for sale – we sell autos and manual versions – REF: CS05WF
Toyota Hiace Campervan for sale in Sydney + 12m warranty
This 3 Person Toyota Hiace Campervan for sale is the perfect vehicle for you if you're planning a road trip through Down Under.  Buying a Toyota Hiace Camper is the best way to save money on accommodation and transport.  Call Shaun on 0421010121 for more details or to arrange a test drive before you buy this Toyota Hiace Campervan our Sydney Depot.
All stickers removed and deep cleaned
To illustrate how we process this Toyota Hiace campervan, it goes through our sales process.  In the first place, we get all the on-road testing done.  Then the Toyota campervan goes on the ramp for another inspection before we hand over the campervan to our detailing department.  The team removes all the stickers and buff up the paintwork to make it look fresh. There are many beat-up old campervans on the market, however, this used Toyota Hiace campervan for sale is a different breed.  Without reservation, it's the perfect vehicle for anybody searching for a good quality used campervan with warranty. To emphasize our quality control process, we do the following to each vehicle for sale here in Sydney:
All Toyota-Hiace campervans have a proper road test for a week before we start processing the van.
100 point safety check to give us a baseline.
Full service and then road-tested by our technicians before being advertised.
We paid attention to the detailing and finish inside (and outside) of the campervan.
All stickers removed and paintwork re-buffed up so looks fresh.
Receives a deep industrial clean (inside and out)
Test drives welcomed anytime – call Shaun 0421101021.
Travelwheels offer a "try before you" one week rental (out of peak season) to give you the ultimate peace of mind.
We sell a range of campervans at our depot in Sydney
Most Popular two-person campervan = two-person automatic campervan.
Take a look at our five-person Toyota Automatic campervan with two child seat belt points
Toyota campervan with a comfortable lounge area
Inside this Toyota Hiace Campervan for sale is when you realise just how good these campervans are!  In the first place, they are super practical with comfortable multi-use seating and plenty of space to entertain friends in the lounge area.  Secondly, with a durable floor covering and laminated surfaces make keeping the campervan clean and tidy easy.  Hidden under the benches, for instance, is ample storage areas which make travelling with all your equipment a lot easier.  Without reservation, these practical campervans are perfect for anybody wanting a quality used campervan with Toyota reliability.
Plenty of windows for a great room with a view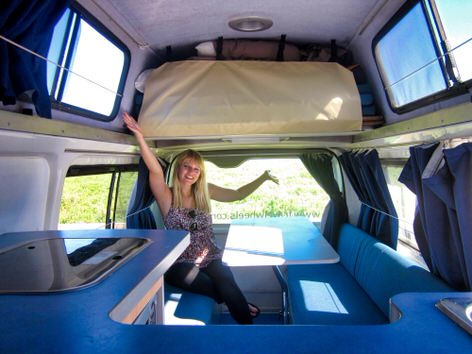 Another key point to note is these Toyota Hiace campervans for sale have plenty of windows to let light flood in.  The lounge area has been designed to give you an amazing room with a view. The large rear tailgate opens up space to the great outdoors. Therefore making the connection between the great outdoors and the inside of the campervan seamless.  In addition, the rear tailgate when opened up acts as a mobile shade from the sun, and it's a great place to enjoy those magical views.
Redesigned practical kitchen – comfortable, clean place to cook
The kitchen in this Toyota Hiace campervan for sale has a well-designed and easy to clean kitchen with large worktops.   There is plenty of space to prepare great meals in the practical fully functional kitchen. Another key point is the location of the kitchen in this campervan.  Unfortunately, in many badly designed campervans, the kitchen is located right at the back of the campervan!  This immediately puts up a physical barrier between the chef and the rest of the party.   We hate this!  Therefore in our Toyota Hiace campervans, we have designed a combined kitchen and lounge open plan layout.  This means you can cook, chat and relax with friends all at the same time.
Toyota-Hiace Main Features
This Toyota Hiace Campervan can seat and sleep 3 people comfortably in the campervan. This way you can save a lot of money as you can share all your travel expenses with your friends! Australia is an expensive place, so saving money on accommodation is a priority if you are on a budget.  The Toyota Hiace Campervan for sale is fully fitted out and newly restyled with the following equipment & features:
Sleeps 3 people
Comfortable double bed (1.85m x 1.55m)
Comfortable single roof bed (1.60m x 1.38m)
Folding outdoor table
2x burner gas stove and 4kg gas bottle
All cooking, sleeping and living equipment included in the price
Dual Battery System for the fridge and internal lights
Manual Gearbox with 2.4L Economical Engine
Air Conditioning and Power Steering (easy to drive)
Looking for an automatic Toyota campervan?  We sell automatics – call Shaun on 0421101021
Why buy a campervan from us?
This Toyota Hiace Campervan for sale is an ex-rental vehicle from Travelwheels Campervan Hire Australia.  It had a service history and you are welcome to view this when you pop by and see this Toyota Hiace Campervan for sale.   This ex-hire campervan for sale is in great condition, very clean, recently serviced, fully fitted out and ready to travel today.
Full mechanically serviced with Roadworthy Certificate (Pinkslip)
We can arrange 3, 6 or 12-month rego – whatever works best for you
12 Months Warranty On Engine & Gearbox
Satisfaction Guarantee Of 3 Days
Guaranteed buy back up to 50%
Option to rent before you buy Toyota campervan
Free and helpful advice :)
Looking for something smaller?  Check out our Toyota 2 person campervans for sale
Similar used campervans to consider
This Toyota Hiace campervan for sale is our number one seller! They are for one thing always sought after and heavily in demand.  It is, for example, rare to see ex-rental Toyota Hiace campervans in this condition.  They are the perfect vehicle for anybody looking for good value for money used Toyota campervan.  If this one has sold out, then don't worry.  Within the next few months, we will be getting in a new range of Toyota campervans to sell directly to the public. Therefore, it is definitely worth giving Shaun a call now on 0421101021 to get an update on new vehicles arriving soon.  In the meantime, here are a couple more options to consider:
Let's arrange a test drive – contact us
Once you get here and jump in a few campervans you will need this fun Toyota campervan in your life!  In the first place, it's easy to see why they are a lot of fun!  They are a very practical option and in addition, have a high resell value.  For more information about organizing a test drive feel free to email us at sales@travelwheels.com.au.   You can call the team on 0421101021 to ask any questions about this great used Toyota Hiace campervan for sale. However, we suggest the best thing to do is visit our depot in Sydney and test drive a few campervans.  Here is our location at 11-15 Clevedon Street, Botany, 2019, Sydney.
Message the team
Now is the time to send us any questions you might have about this Toyota Hiace campervan for sale.  Fill in our contact us form below and our team will get back to you asap.  Seriously, we want to hear from you, so no matter what the question is about this campervan, send us a message below.  The team at Travelwheels is here to help you find the best-used campervan in Sydney!