Toyota Hiace Hitop Campervan for sale in Sydney – Test drives welcomed – REF: ENJ88K
Toyota Hiace HiTop Campervan for sale in Sydney |Travelwheels used campervans
Just arrived at our depot is this fantastic ex-hire Toyota Hiace HiTop campervan for sale at our used campervans for sale branch in Sydney.  We are specialist in selling ex-hire used campervans here in Sydney.  Firstly, they are all professionally deep cleaned, all stickers removed and come fully serviced and ready to go!  Therefore give Shaun a call on 0421101021 to arrange a test drive.  You are welcome to us a question about this great used campervan.
Australia's most popular used campervan for sale
This is without a doubt the most popular used campervan for sale in Australia! An ex-hire Toyota Hiace Hitop campervan is a great option for a couple or up to 3 friends who want to travel around in comfort.  They are the number one choice for all the campervan hire companies in Australia due to their reliability.  Anybody that knows a thing or two about campervans will instantly go for a used Toyota Hiace campervan!
Has everything you want in a used campervan!
This used Toyota Hiace Hitop campervan for sale has everything you want in a used campervan!  It comes with a Microwave, 2 burner stove & grill, 55l fridge, sink, table, big double bed and a single bed in the roof for starters.  The great thing for example about this particular Toyota Hiace Campervan is that it has been recently refurbished on the inside to a very high standard.  It is now ready to explore Australia for someone looking for a quality used Toyota campervan.
Toyota Hiace Hitop campervan for sale main features:
Remember when you buy a used Toyota Hiace Campervan for sale it comes with all the extra you need. Firstly, it comes with all the bedding and cutlery you need will be provided and is included in the price!! Travelwheels used campervan sales Sydney will help you with all the paperwork and make buying a used campervan super easy..  Remember our staff can speak Deutsch and you can email travelwheels used campervans here.  Here are the specifications for this campervan and you are welcome to call us on 0421101021 to answer any more questions.
Model: Toyota Hiace 3 Person Campervan
Built 2011
Transmission: manual gearbox (automatic campervans for sale also available!)
Air conditioning: yes
55 Litre fridge (dual battery operated)
Water tank & sink/washbasin
2 gas burner  cooker
Microwave
Spacious kitchen layout
Outdoor camping chairs and table
Cooking equipment included
CD Player & AM/FM radio – we can upgrade this to your specifications
Cigarette lighter socket suitable for recharging phones
Flyscreens are fitted on the windows in the rear of the campervan.
Air conditioning in the front cab
Looking for a smaller campervan?  Check out our 2 person campervans for sale
Redesigned practical kitchen – great to cook in
These Toyota Hiace campervans have clean lines and well-designed kitchen space. To begin with, they have plenty of room to prepare a decent meal in this campervan.   A point often overlooked is how practical is the space to cook and entertain at the same time.
Unfortunately in many campervans, the kitchen is at the back of the campervan which puts up a barrier between the chef and the rest of the party!   This is not the case in these fantastic Toyota campervans.   These have been specially designed to have an open plan layout.  This means you can cook, chat and relax with friends all at the same time.
Toyota Campervans come with a 55L fridge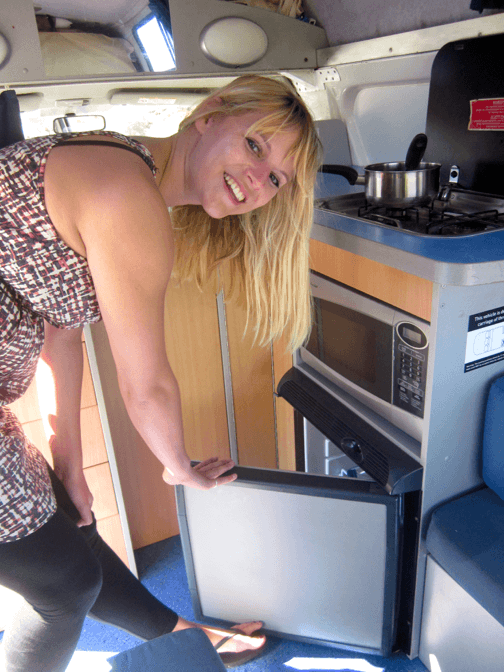 Why buy Toyota Hiace Hitop campervan for sale from us?
Why use travelwheels to buy a Toyota Hiace Hitop campervan for sale? The answer is simple as we take all the stress out of buying a used campervan in Australia. we know that choosing the right used Toyota campervan is important. From our years of personal experience, our staff are able to recommend a quality Toyota Hiace Hitop campervan for sale for your needs.  We make it as easy as possible for you to drive away with a great value used campervan from Travelwheels.
One year Australia warranty on engine and transmission.
12 months worth of roadside assistance included
Guaranteed buy back up to 50%
Twenty years of experience in buying and renting Toyota Campervans in Sydney
Try before you buy!  Rent the camper for a week and then buy to make sure you are happy
Roadworthy Certificate (Pink Slip)
12 Months Warranty on Engine & Gearbox,
24 /7 Roadside Assistance
Help with purchasing Third Party Insurance
We speak Deutsch!
Looking for child or family friend automatic campervans for sale – we got them as well!
Similar used campervans to consider
If this Toyota Hitop Hiace campervan for sale has sold out, then we have options for you still.  As a result of recently released some more used Toyota campervans, they will soon be on sale direct to the public. In the meantime, here is a short list of some more campervans we have in stock ready for sale today:
Try before you buy – contact us
Travelwheels used campervans sales are based in Sydney Australia. Why not give our sales manager a call on 0421 10 10 21 and you can ask Shaun any questions about buying this Toyota Hitop Hiace campervan we have for sale.  You can visit our depot in Sydney and try before you buy!  Here is our address, 11-15 Clevedon Street, Botany, 2019, Sydney.
Contact the team via messenger or email
You can send the team your questions by emailing us at sales@travelwheels.com.au.  Alternatively, the easiest way is to fill in the contact us form below.  The team will get back to you asap.  We look forwards to answering your questions about this Toyota Hitop Hiace campervan for sale and welcoming you to our depot for a test drive soon.