Used Toyota Tarago Campervan for sale in Sydney – Automatic Toyota camper – REF: CZ77LJ
Used Toyota Tarago campervan for sale in Sydney | Automatic
We have recently got some more ex-rental Toyota campervans we can sell direct to the public at a reduced cost.  Firstly, this used Toyota Tarago campervan for sale is a fantastic small automatic Toyota campervan for two people.  Secondly, it comes with a practical kitchen with everything you need to make great meals (including a fridge!).  The comfy lounge quickly converts into a double bed.  Give Shaun a call on 0421101021 to arrange a test drive today.
Used Toyota Tarago campervan for sale with double bed
We have designed this fantastic 2 person Toyota automatic campervan to not only have a mini kitchen, but also a double bed! The bed is super easy to make and there is enough space for two adults to have a good night's sleep. The practical design of this used Toyota Tarago campervan means the two comfy benches quickly convert to make a nice double bed in the rear of the vehicle. It literally only takes about a minute to convert the table/benches into a comfy bed!
Nice comfortable double bed
In addition to it being a nice comfy bed, all our used Toyota campervans have curtains on all the windows for privacy in the rear of the camper. Another key point to note is that there are no company graphics or campervan hire signs on the vans.  All our Toyota campervans are plain white and have no promotional or advertising graphics on the side of them.
What is the size of the bed in 2 person campervan?
Here are the dimensions of the double bed in our 2 person campervan = 1.70m x 1.35cm.  This is the perfect campervans for weekend away trips to the blue mountains.  If you have a spare week or two to enjoy longer trips up and down the coast this is the great used campervan for you.  Another point to note as to why people love this vehicle due to it driving like a normal car.  It's only at night when it converts into a camper it becomes your hotel on wheels!
If you are taller than 1.7m, then we have other options for you.  We, therefore recommend buying one of our used Toyota Hiace Hitop campervans which can easily accommodate three people comfortably.   These Toyota Hiace campervans have more headroom and a larger bed as well! The size of the double bed (1.85m x 1.55m) in this vehicle.  The biggest bed we offer is in our Toyota Hiace five person automatic campervans.  The bottom double bed is 2.1m long x 1.7m wide!
2 Person Toyota camper with a full-size fridge, not an icebox!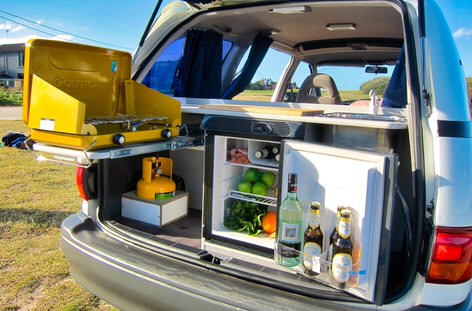 Firstly, when you are looking to buy a used campervan, you need a decent kitchen when out on the road exploring Australia.  This Toyota Tarago campervan comes with a decent size fridge and a two-way battery system to power it!  The 35L Fridge and two-way battery system make this the ideal first-time campervan for anybody wanting a quality comfortable campervan without spending a fortune on a big campervan.
Used Toyota Tarago Campervan sale in Sydney features:
Below is a list of the main features of this used Toyota Tarago campervan for sale at our Sydney office.  This is the most popular campervan we sell to couples on a budget and who want a decent-sized compact campervan they can use to drive to work or do the shopping as well. Remember if you need any more information about this Toyota campervan, contact our friendly team by emailing us at sales@travelwheels.com.au or call 0421101021
Model: Toyota
Make: Tarago campervan
Built: 1998
Professionally built campervan conversion
Double bed
Kitchen with fridge, cooker, and sink
Air Conditioning: Yes
Power Steering: Yes
Transmission: Automatic
We also seller larger Toyota automatic campervans as well
Why buy from travelwheels used campervans?
There are plenty of good reasons to buy a used Toyota Tarago campervans for sale from us. We are a registered motor trader in NSW over the last twenty years.  We have been hiring Toyota Hiace Campervans for the last fifteen years all over Australia.   Therefore we know how to service and look after these fantastic campervans.  This is a golden opportunity for you to buy one from a licensed dealer.  See the list below and then compare it to our competitors!
100 point safety check and test drives welcomed any time
Full mechanically serviced with Roadworthy Certificate (Pink slip)
With three-month Registration (REGO) & Insurance (Green Slip)
12 Months Warranty On Engine & Gearbox
24 hour, 7 days a week Roadside Assistance included
Guaranteed buy-back option up to 50% included
we sell a range of Toyota campervans and all available to test drive
Similar used campervans to consider
If for example, this used Toyota Tarago campervan for sale has sold out, then we have options still available for you to buy.  As a result of selling off some ex-rental campervans, we now have some more used Toyota campervans coming up for sale direct to the public. In the meantime, here is a short list of some more campervans we have in stock ready for sale today:
Contact travelwheels used campervans sales Sydney Australia
Have a question about this used Toyota Tarago campervan for sale? There are loads of ways to contact us such as sending us an email =  sales@travelwheels.com.au. Our team is ready to take your call and answer any questions on 0421101021. You can also visit us in our Sydney showroom at 11-15 Clevedon Street, Botany, 2019, Sydney.  Alternatively, just enter your details below and we will get back to you asap!